Through the cracks, do we upgrade or grow?
Installation in Goethes Passage, Goethe Institute Rotterdam
Fiber optic cables and modelling clay
2023
This installation was created during a 3 month residency in The Goethe Institute Rotterdam under The Goethe Institute's the investigate series, where i was researching digital instruments of memory. This research residency applied a forensic approach to learning about digital infrastructure and quickly through dialogues and conversations uncovering what it means to use digital technology systems today, I found myself invested in learning about our relationship to light and memory, focusing on the spectrum of light. I became intrigued by our relations to the invisible spectrum, its role as a natural resource, the spectrum auctions and its central role in digital infrastructure. I began to reimagine/ reposition relations to the digital and for this reason leaned into the definition of the word SPECTRUM itself and its etymology regarding the spectre and spectrals. The word having relations to the ghostly or ghostly image as an attempt to use this as a metaphor for todays digital relations if light itself is the medium/ vehicle for all things digital. It seems we being are haunted as I relate my research to concerns found in The Age of Surveillance Capitalism – Shoshana Zuboff. This research directly led into another residency in Rib, titled: WHAT HAPPENS WHEN THE LIGHTS GO OUT. In this residency I attend to this reimagining of what it means to use the digital realm, how It feels to be a user, forging a new relationship to light and summoning the ghosts of tomorrow.
If Goethe institute allowed me to think about light and memory, this research continues to Rib and asks what if the lights go out.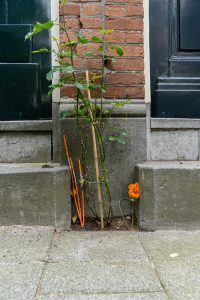 The installation in Goethes Passage was a response to a photograph I made during the residency reimagining digital relations.
The installation:
Invited inside to the Goethe Institute building in Rotterdam are fiber optic cables that are being layed currently throughout the Netherlands. As the Netherlands prepares to upgrade to the next generation of information sharing, digital media, data loads and ultimately energy consumption. This temporarily visible infrastructure is one of the only signs of this upgrade on a material level.
My research in The Goethe Institute has been exploring what it means to remember digitally and has since become fascinated with our relationship to light and memory. The medium of the digital is light and one of the most secure and sophisticated means of transporting this is through underground fiber optic cables using laser light. This work is an attempt to reimagining and repositioning relations to these infrastructures as they remain hidden. This work in the Passage of the Goethe Institute building is to highlighting this rare moment of visibility as an important acknowledgment of the kinds of systems that are now integrated into our lives. These are the roots of our digital selves, our economies and our surveillances and continue to feed the nutrients for all the reliance's we now have with the digital and much like how we handle a rose, we must do it with care.
click to enlarge image