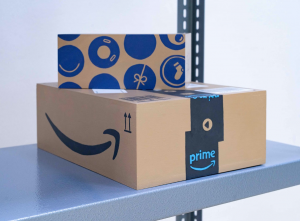 My text supported Eva Pel's Happy Boxes in The exhibition:Terms & Expectations curated by Bas Hendrix and Barbara Cueto in Inter/access in Toronto.
Terms & Expectations included: Hiba Ali, Simon Denny, Sophia Oppel, Yuri Pattison, Eva Pel, Coralie Vogelaar
Happy Boxes
Eva Pels' Happy Boxes resemble a covert operation underway in plain sight. They move discretely through a system that never sleeps as it tracks and traces, connecting the entire globe.
Happy Boxes are recognisable ­­- when sent on a mission, they are valued and determined with an ETA. Located and quantified in transit, they follow the logistical pathways of regular post and packages, blending in with the mechanical movements of e-commerce. They are hand painted, proportionally crafted MDF boxes masquerading as an Amazon package or a Bol.com package or any other ubiquitous online shopping brand. These paintings are doppelgängers for these reasons, sent out to experience and exist while undercover in vast logistical networks. They act as both a performer and spectator.
After being painted, the artist begins the ritual of postage in her local post.nl office. It is standard practice when any package is posted that information is exchanged between parties. The undercover artwork is categorised by its size, weight, contents and destination, not unlike an artwork's description with its title, year, size and medium. It is easy to imagine the postage receipt mentioning its contents and suggesting only an empty box. Something only a postal worker might recognise, potentially blowing the cover of the Happy Boxes. After the package is logged, it is sent to the sorting office. I always allowed myself to think of this part of the journey as magical, like how my imagination goes wild thinking of the mechanics leading my luggage to appear on a baggage carousel in an airport. A trope often used in cartoons expressing an impressively complex system of conveyor belts – perhaps it's meant to seem like that.
The organisation is immense within postal services. The complexity of the algorithms forever tuning its logistics, foreseeing problems while being rendered and traded by the Internet of Postal Things (IoPT). Adapted from the Internet of Things (IoT), the IoPT is instrumenting the postal infrastructure with low-cost sensors to enable them to collect, communicate, and act upon a broad variety of data furthering the seamlessness of e-commerce. The rapidly growing databases of the IoT and IoPT brings into question how long human intervention will be needed in such a system. A reoccurring shadow casted over much of labour and its future. Growing AI technologies are suggesting driverless cars, drone deliveries, drop off points and more autonomous machines for a seamless and streamline service.
Would Pels' Happy Boxes become redundant if no one encounters the obscurity of their crafted position while in transit or on display? Or is the intervention that is painting a doppelgänger box and sending it through a system, exactly what we need in order to position ourselves in a growing autonomous world? Can this work be considered an exercise in living with/ under surveillance, asking questions like what it means to be tracked and traced? And if resistances are required like Pels' delicate capitalist camouflage for slipping through AI awareness in a future increasingly monitored; are we becoming similar to packages on conveyor belts being bought and sold? And what if this race for growing autonomy within e-commerce condemns us to only be receivers of goods?
"It is no longer enough to automate information flows about us; the goal now is to automate us."
― Shoshana Zuboff, The Age of Surveillance Capitalism[1]
The future of surveillance capitalism as suggested by Shoshana Zuboff shares these thoughts. Thoughts of being tracked and traced, bought and sold under the gaze of power and control. Happy Boxes are a reaction to this, cleverly using a system to understand and interrogate it, and ultimately undermine it. These works promote important questions, after all it wasn't a box maker or label machine that led to Pels' doppelgängers, it was a human hand with all its imperfections delicately forging an imitation. When receiving a handwritten letter from a loved one, you can hear their voice when reading it – feeling the shared touch of the same piece of paper. A letter can hold a personality on its own. Pels' boxes perform this function as well. They challenge us to envision how we can remain invisible in plain sight. How we can hold onto our personalities and to think what sleight of hand this might take.
Continuing their journey, Pels' boxes are manoeuvred and ushered, occasionally handled (for now), picked up, placed and potentially making an appearance broadcasted for the world to see on doorbell cam videos on YouTube. Another example of the surveillance eco-system aligning with entertainment. These artworks are always added too, dinted, bruised, scraped, and scratched. The arrival of the Happy Boxes to its destination holds witness to its journey. The usual cardboard used for packages and its protective foam inserts more often than not become waste. Pels' Happy Boxes do not. Instead, they continue to act, with new imbedded meanings making them more like us.
Presuming the covert operation went smoothly, the arrival of Pels' Happy Boxes is expected on time at the prescribed ETA allocated. They may be greeted at the time of delivery if a signature is required or remain at a drop off location until collected. Upon collection these packages are not opened, for the suspense is not within the box, but is in fact the box and the moment of delivery. These doppelgänger parcels are then displayed/exhibited, leaving their journey to be imagined. Happy Boxes remain in disguise and often go unnoticed even when displayed. The tracked and traced information of the packages journey have already been extracted without a doubt and traded on the IoT and IoPT, ever tuning this vast network of postal services and e-commerce in the key of efficiency. The artworks charm however, is when it lures you in close and gets noticed. If you are examining the details of the work, its cover is blown. It is here the distance of labels; barcodes and the packages brands unravel with a sense of optimism via secrecy. For this reason, Pels' Happy Boxes offer a sense of surviving under surveillance, where the artist captures the complexity and reality of ideas of transparency and opacity working in harmony.
Steven Maybury
Rotterdam
30/9/2022
[1] Zuboff, Shoshana. The Age of Surveillance Capitalism: The Fight for a Human Future at the New Frontier of Power. New York: PublicAffairs, 2019.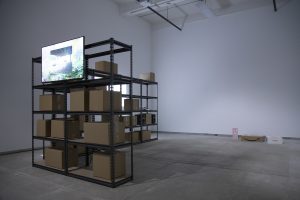 Terms & Expectations included: Hiba Ali, Simon Denny, Sophia Oppel, Yuri Pattison, Eva Pel, Coralie Vogelaar